The Story Behind the Swan
In the 1920's several members of the Braunschweiger Family immigrated to the United States from the Black Forest region of southern Germany. The region was world renowned for its precision timepiece manufacturing. Not unexpectedly, the Braunschweigers had been trained as watchmakers and clockmakers. They proudly carried this heritage with them to America. Taken from the family's hometown crest of Schwenningen, Germany, the Braunschweiger Swan represents the integrity, craftsmanship, service and value which was respected in Germany and continues today.
Our History Through the Generations
Braunschweiger Jewelers is a family business, well established and recognized for offering quality jewelry, integrity and unmatched service to our customers.
---
1873
Balthus Braunschweiger is born in Germany. He is trained as a clockmaker and goes to work in the Kienzle Clock Factory in Schwenningen, a city near his hometown.
1919
Eugen, Balthus's son carries on the family tradition as a clockmaker and goes to work in the same factory. Son Robert is yet too young to consider his future vocation.
1925
Most of the Braunschweiger Family immigrates to the US and settles in Hillside, NJ.
1927
Eugen and his younger brother Robert, are able to put their clock making and watch making skills to good use in the US. Robert is employed by Wittke Jewelers and Eugen by Michael Kohn Jewelers, both in Elizabeth, NJ.
1931
With a $200 investment, Robert opens Market Watch Repair in Newark NJ, a second floor, cut-rate watch repair service to jewelers. Soon after, a street level shop is opened and customers are served directly. The Braunschweiger brothers see their families clear through the Great Depression.
1936
Robert has secured the family's financial stability and Eugen leaves Michael Kohn Jewelers to become partners with his brother, Robert.
1939
Market Watch Repair is renamed: Braunschweiger Brothers is born!
1941
Eugen's sons, Eugene, Herb & Bill help out after school while their Uncle Robert serves with the US Army during WWII
1948
In the meantime, Robert is back from the war and Braunschweiger Brothers has been doing well. The brothers purchase a lot at 45 William Street in Newark and build their own store.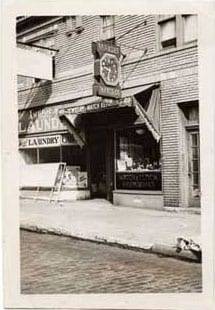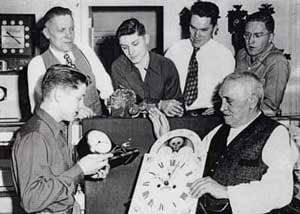 BALTHUS BRAUNSCHWEIGER SHOWS HIS FAMILY THE FINER POINTS OF CLOCK REPAIR.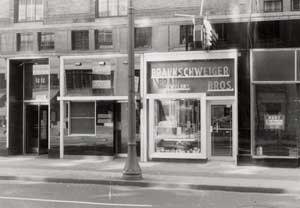 1212 RAYMOND BOULEVARD, NEWARK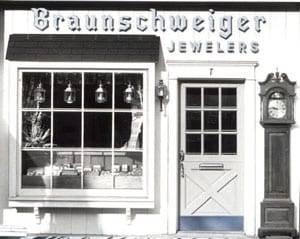 7 LINCOLN STREET, EAST ORANGE
MAIDEN LANE STOREFRONT IN NEW PROVIDENCE
1957
Braunschweiger Bros. continues to thrive and moves to 1212 Raymond Blvd. in the heart of downtown Newark. A greater selection of watches and jewelry is offered for the first time.
1958
Braunschweiger Bros. purchases Pettit Jewelers at 37 South Street in Morristown. Brother Robert and his nephew Eugene head up the Morristown store and Eugen stays in Newark with his twin sons, Herb & Bill.
1964
Braunschweiger Bros. leaves the Newark location for Lincoln Street in East Orange and begins doing business as Braunschweiger Jewelers. Older brother Eugen has since retired.
1966
The East Orange location is sold. Geljack Jewelers in Springfield, NJ is purchased.
1967
The third generation, Eugene, Herb & Bill become partners with the Ferdinand Family in New Providence, NJ and buy into Maiden Lane Jewelers. Braunschweiger Jewelers now operates 3 locations: Morristown, New Providence and Springfield. Robert has since retired and now three new brothers are in charge.
1978
The Springfield location has since been sold. Maiden Lane Jewelers triples in size when it moves to a new space within the Village Shopping Center. In the next few years, the Ferdinand family sells their share and this store also becomes another Braunschweiger Jewelers location.
1980'S
The Morristown store moves into a new location just a few doors down on South Street.
In true Braunschweiger style, the legacy continued in the late 1980s with Bill and Herb's children stepping into their new management rolls at the growing family jewelry business. Bill, Kristy, Linda and Gretchen took hold of the business and infused fresh spirit and boundless enthusiasm spearheading the next generation of Braunschweiger successful entrepre-neurship.
1990'S TO THE PRESENT
Morristown and New Providence are our two present locations. We continue our tradition of quality and integrity in the jewelry business. We are proud of the craftsmanship and vision of our forefathers, Balthus, Eugen, Robert, Eugene, Herb & Bill. We hope to make them proud as we head into our Fifth Generation.